What U.S. Companies Are Saying About Price Pressures
Wednesday, July 21, 2021
As the late U.S. Defense Secretary Donald Rumsfeld might have put it, the likelihood of this year's surge in consumer prices proving "transitory," as policymakers anticipate, is a known unknown.
But the slew of corporate earnings statements and analyst calls are shedding some light on the outlook. The comments suggest price pressures aren't about to fade.
Chipotle Mexican Grill Inc., the restaurant chain that hiked wages earlier this year, said Tuesday it may raise its prices further. CFO Jack Hartung said the company has seen "no resistance whatsoever" to higher menu prices yet.
Other recent comments, gathered by Olivia Rockeman and Peyton Forte, add to signs that businesses are getting used to a new era of faster inflation:
Soft drinks
"Is there somewhat more inflation out there? There is. Are we going to be pricing to deal with it? We certainly are." - Hugh Johnston, CFO, PepsiCo Inc.
Household lubricants
"In order to combat the economic factors we've been experiencing, we've begun implementing price increases in many of our markets." - Jay Rembolt, CFO, WD-40 Co.
Recliner chairs
"We continue to face raw material price increases, due to supply and demand trends and supply chain disruptions." The company will take "further actions when and if necessary." - Melinda Whittington, CEO, La-Z-Boy Inc.
Paints and coatings
"This inflation cycle is much higher than anyone anticipated and we're continuing on a business-by-business basis, working to secure further selling price increases," - Michael McGarry, PPG's chief executive officer
Investors are responding to what they're hearing — bidding up the stock prices of companies with the power to pass along cost increases.
As Bloomberg Opinion Columnist John Authers shows with a dashboard of 35 indicators, the official data are "flashing alarmingly bright" and businesses are "sounding the alarm." Even still, "nobody is positioned for the Fed to lose control of inflation anytime soon, nor for Germany or Japan to snap out of their disinflationary malaise."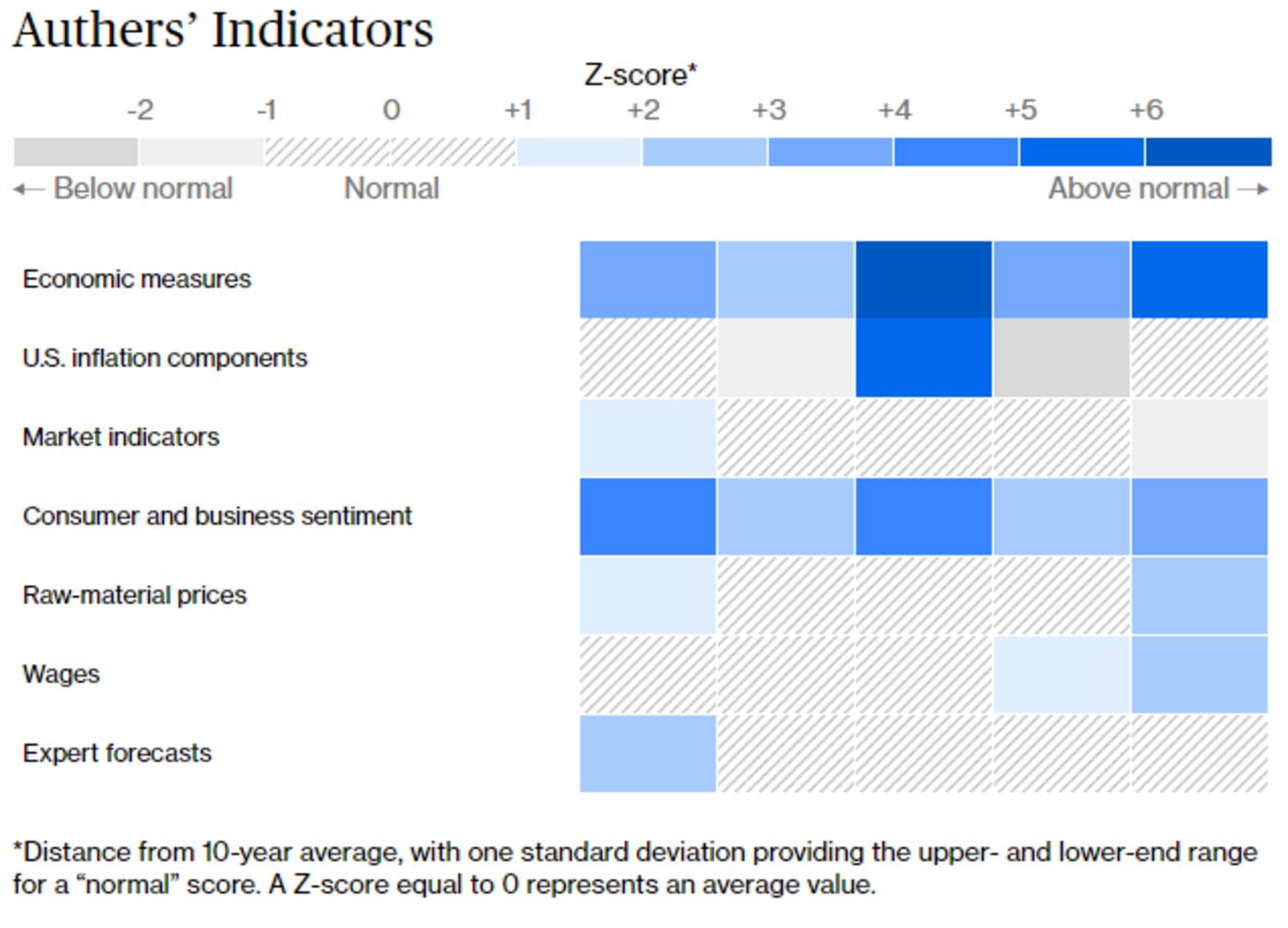 Economists are starting to incorporate faster price gains hanging around longer. The median forecast in Bloomberg surveys is for a 2.5% gain in the consumer price index in the first quarter of 2022, up from the 2.3% predicted in April.
All food for thought for Federal Reserve policy makers as they prepare to discuss, at the policy meeting next week, their plans to taper asset purchases.
Category: Economic News, U.S. News